Tidal Drift II - Carved wall panels
Tidal Drift is a new series of wall sculptures based on the tides of the beaches of Freshfields Borough of Sefton, Merseyside, England,
The theme is endless and gives a new path to my work reflecting on my journey as an artist has always been something you try to make time for but it often gets put aside. So my work on the wall panels is about focused reflection
The process of preparing the panels begins with the wood selection, I have chosen Sapele wood for the first 2 designs because of its colour and ability to show amazing undulation hidden in each plank used. The next designs will be in Oak and Ash for their own unique qualities.
Marking the tide lines using chalk from photos I have taken of the tide on the beach. the lines are only a guide as I begin to carve the piece starts to take shape. creating the high ridges for the sculpture is important as it gives a sense of direction of water flow. the high sides show a stronger current of the sea. the rounder ridges show a reduced flow of water. as the waves begin to lap the shore. you can see a mix of the effects of the tide lines. as you walk on high banks of sand the ridges are almost like a knife edge, where you have to walk sideways like a crab to avoid injury to your feet.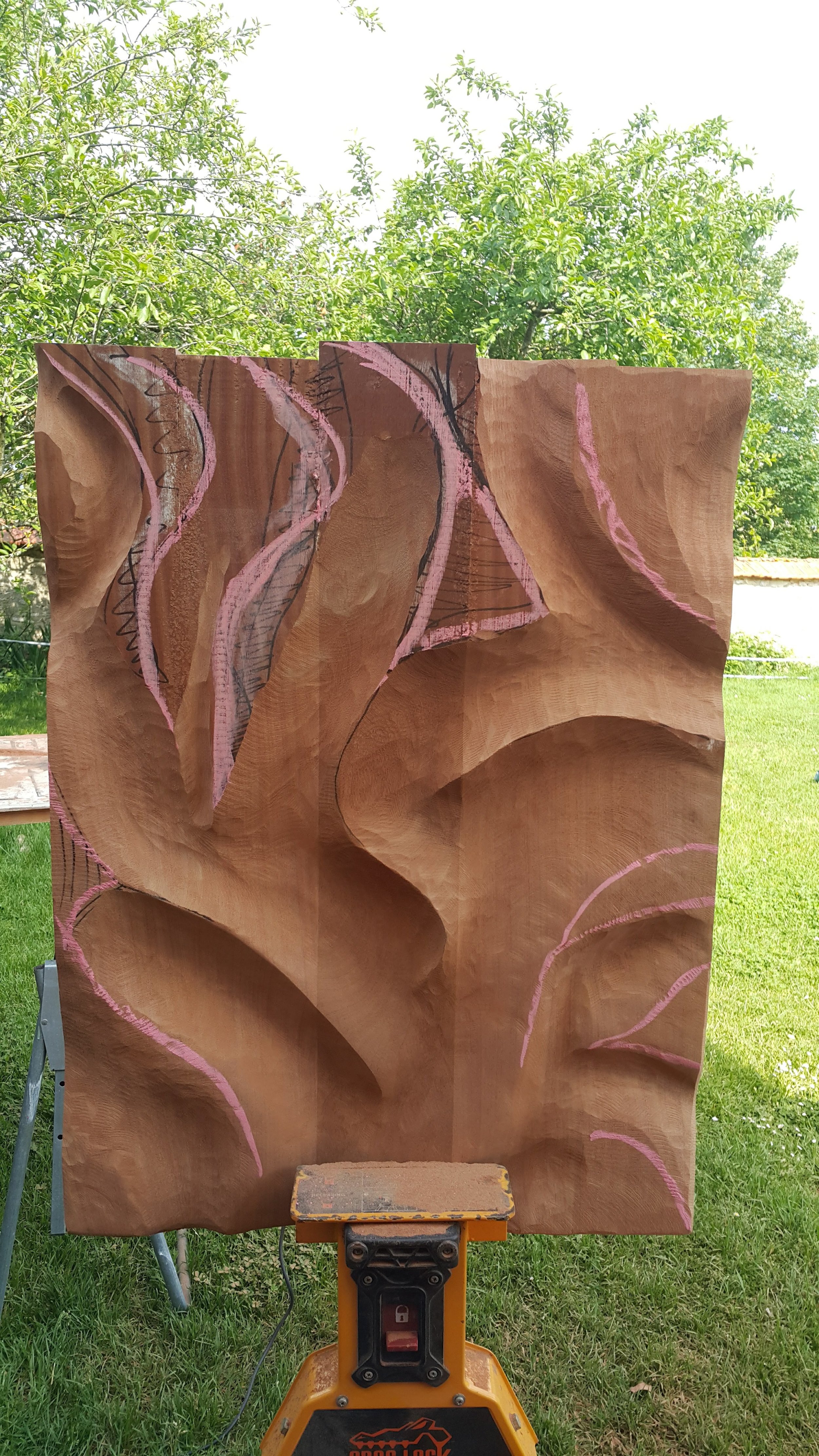 Drawing up the design for the 2nd Tidal drift wall sculpture. the design is chalked onto the sections of timber as a guide and to show the direction of the water flow.
The sculptures take around a month to produce as the carving is done with carbide tools and hand tools. the hard work comes when the sanding process begins, sanding from 80 up to 600 grit papers take time energy and flow. The final works are sealed with a special finishing oil. to allow the wood to breathe and so as not to remove the natural look and sheen of the wood.
Each sculpture weight between 12 kilos and measure 90cm long by 60cm Wide by 3cm to 5cm deep.
I hope you enjoyed reading about my current work. Please feel free to share o leave a comment below.